Public sector leaders to benefit from training programme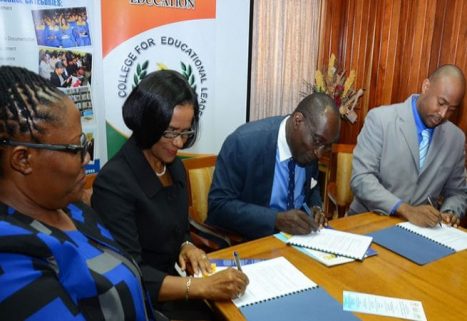 Jamaica Information Service (JIS)
The competence of middle-level leaders in the public sector is to be strengthened under a new programme to be offered by the Management Institute for National Development (MIND) in partnership with the National College for Educational Leadership (NCEL).
Both entities signed a Memorandum of Understanding (MoU) for the development and delivery of the training programme during a ceremony held at the Ministry of Education, Youth and Information's National Heroes Circle location in Kingston on April 15.
Portfolio Minister, Senator the Hon. Ruel Reid, welcomed the partnership for the training programme, which he said, will also benefit school leaders.
"This partnership is expected to result in the retooling and upgrading of the professional skills of the upper and middle-level management in institutions across the education system, particularly in the public sector," he noted.
He described the partnership as a "win-win" for NCEL and MIND as it allows the entities to leverage their respective areas of strength in programme development and delivery as well as certification.
Senator Reid noted that continuous training of leaders in important. "Leadership is a journey and you have to be adaptable and creative as you navigate the challenges. New things happen each year and leaders have to be ready to lead and inspire their teams," he pointed out.
Director of Programmes, NCEL, Dr. Taneisha Ingleton, said the partnership is in keeping with the Government's move to restructure and re-culture the public sector into a modernised system, which is leaner, more responsive, efficient and flexible, and headed by competent leaders.
"Essentially, a modernised public sector will demand a set of leaders, who are able to provide adaptive and creative solutions to existing and emerging challenges," she noted.
Chief Executive Officer of MIND, Ruby Brown, said the MoU will serve to formalise and deepen collaboration to advance the rate and pace of leadership development across the public service.
"It is envisioned that the caliber of leaders in support of our public service transformation will continue to be enhanced as we work to ensure that the leadership legacy being established…with the signing of this MoU, will thrive," she asserted.
Permanent Secretary in the Ministry, Dr. Maurice Smith, also welcomed the initiative, which he said is a "manifestation of (true) leadership".
The key features of the leadership programme include on-the-job training, job-shadowing and apprenticeship, competency-based assessment and evaluation and networking.