Implementation Of First Phase Of HCMES To Be Completed By End Of 2017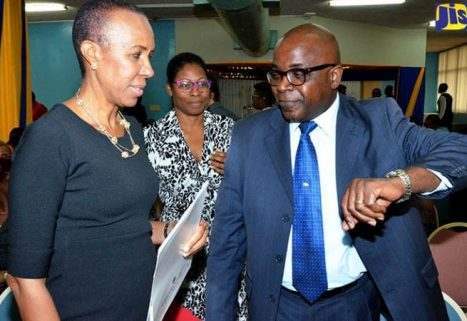 Jamaica Information Service (JIS)
Implementation of the first phase of a Human Capital Management Enterprise System (HCMES) in public-sector entities has already commenced and is to be completed by the end of 2017.
Fourteen ministries, departments and agencies (MDAs) have been selected to be the first to utilise the services of the system, which offers a standardised human-resource and payroll platform.
All other entities will have the system installed over the next two years.
This was revealed at a ceremony at the Ministry of Finance and the Public Service to unveil the name and logo of the HCMES, on March 6.
State Minister, Hon. Fayval Williams, described the HCMES, which has been named MyHR+, as a significant step in transforming how the Government manages human resources in the public sector, and forms part of a wider programme to transform human resource management.
She said the Strategic Human Resource Management Division at the Ministry will be working to engage members of the HR community in the public sector as well as other key stakeholders.
"Transforming the management of human resources is central to achieving greater levels of efficiency in the public sector. HR as a function in the public service needs to change to meet the needs of our customers, both internal and external," Mrs. Williams said.
Eight MDAs started using the HR module of the programme in September 2016 and four entities are currently running both the HR and Payroll modules.
Training, which started in January of this year, is ongoing and will be delivered through partnership with the Management Institute for National Development (MIND).
Project Manager, Gregory Thomas, said the system will provide a consolidated view of the public sector, more efficient human-resource and payroll operations, and will be cost-effective.
The project was started in January 2016, following the signing of a contract in December 2015 with Portugal-based software engineering company, Quidgest, which carried out the installation, configuration and testing of the programme.
MyHR+ is expected to capture a range of employment information for personnel across the public sector.
The entities in the first phase are Office of the Services Commission, eGov Jamaica, National Water Commission, Passport Immigration and Citizenship Agency, Accountant General's Department,
National Housing Trust, the Transport Authority', Jamaica Customs Agency, Ministry of Economic Growth and Job Creation, and the Aeronautical Telecommunications.
Tax Administration Jamaica, HEART Trust/NTA, the Ministry of Industry, Commerce, Agriculture and Fisheries, the Ministry of Finance and Planning and the Jamaica Constabulary Force are also in this phase.