Culture change needed to fight gender-based violence, DCP says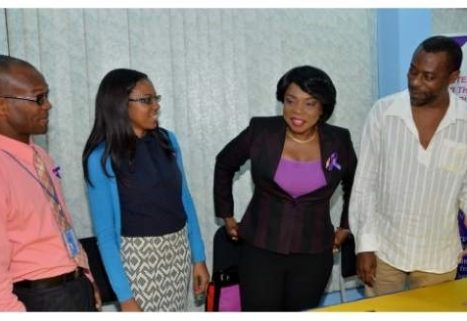 The Jamaica Observer
KINGSTON, Jamaica (JIS) — Deputy Commissioner of Police (DCP) Novlette Grant is calling for civil society to take action in the fight against gender-based violence.
DCP Grant was making a presentation as part of a Discussion Forum to address gender-based violence, hosted by the Bureau of Women Affairs, in partnership with the Management Institute for National Development (MIND) on Friday at the MIND offices in Kingston.
The forum is part of activities observing 16 days of activism aimed at Eliminating Violence Against Women, which runs from November 25 to December 10.
Quoting statistics from a Reproductive Health survey of 2008, DCP Grant said that 14 to 16 per cent of people surveyed believed it is important for a man to show his wife who is boss.
The survey also revealed that 29.5 per cent of persons believed it's a wife's obligation to have sex with her husband, even if she doesn't feel like it and that a good wife obeys her husband even if she disagrees.
She further noted that 64 per cent of those surveyed said family problems should only be discussed with people in the family.
DCP Grant said the figures indicated a need for drastic change in the culture and attitudes of Jamaican men and women, in order for the issue of violence against women to be addressed.
"Part of the problem is for more people to believe that they can seek help and get the kind of response that will bring about some alleviation of the problem. If persons go through the help-seeking process and individuals and institutions are not as accommodating as they should be, we continue to drive the problem underground," she said.
According to statistics from the Jamaica Constabulary Force, of the number of victims of gender-based violence who seek help, only 28 per cent go to the police, seven per cent to a health-care provider, and three per cent to the church.
"This problem does not discriminate because of education, wealth, social class or job description. We have to take action because of the quality of lives we want to live and what we are preparing the next generation to do," she said.
DCP Grant also encouraged persons to join the fight in their workplaces, communities and churches.
"When you go to church, talk about these issues, wherever you go, start to educate people about the problem of gender-based violence. Encourage people to use the help-seeking organisations. Be supportive. Don't blame the victim," she said.
November 25th was recognised as International Day for the Elimination of Violence against Women.
Other activities that have been hosted by the Bureau of Women Affairs during this period of activism include the launch of a social media campaign called 'No More Silence', panel discussions, a public lecture in Manchester, a symposium and community walk in St Mary and a community discussion forum in Trelawny.
"Let us all go out and become social evangelists for change and take action against gender-based violence and domestic violence. I am calling on you not to just sit up and take notice, but to stand up and take action," DCP Grant said.