Beware Of Traffickers – Cops Warn Jamaicans Of Sham Overseas Job Offers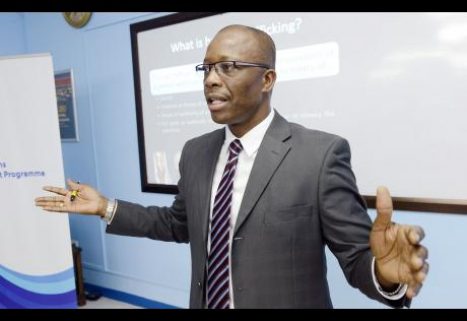 The Gleaner
Jamaicans are being warned that they could fall prey to human trafficking as people, including professionals, seek and are offered employment in other countries. While it is a fact that persons living in abject poverty are at much greater risk, the innate human drive for self-improvement puts everyone at risk of being snared by the lure of chance at a better life.
"Everyone is vulnerable because even as doctors, nurses and police officers, we are always endeavouring to improve ourselves and hence we will try to acquire employment in places we believe are of a more enhanced nature than where we are," Detective Sergeant Kemisha Gordon of the Counter-Terrorism and Organised Crime Branch told The Gleaner yesterday.
Gordon, who participated in a discussion forum on human trafficking hosted by the Management Institute for National Development (MIND) at its Old Hope Road, St Andrew office, explained why professionals are not immune to the lure of human traffickers.
"Some of us may desire to go overseas to work, and if we are not careful, we can find ourselves recruited, given the same promises of a certain kind of pay, improved lifestyle and so on, and we can fall prey to these kinds of things.
"It's much easier for somebody who is poverty-stricken to be trafficked, simply because of their destitute situation, but there is nothing to say that persons who we think are intellectuals will not fall prey, because in the effort to improve ourselves things can happen, but it's really more the persons who are poverty stricken and trying to make a little money to improve their lives. However, everyone should be on guard, everyone needs to be careful. We need to check and double-check whenever we are getting involved in certain things," she warned.
"In the 21st Century we are still grappling with the reality of slavery in the most inhumane conditions," added Senior Superintendent of Police (SSP), Clifford Chambers, also assigned to the Counter-Terrorism and Organised Crime Branch.
More than 200 years after the Trans-Atlantic Slave Trade in Africans officially ended in the Caribbean, organised criminals are still swimming in cash from the lucrative, dehumanising trade in human cargo. Chambers told the forum that gross annual earnings are estimated to be in excess of US$32 billion.
With some 800,000 women, girls and an increasing number of boys sold as cargo each year, human trafficking is running a close second to the trade in illicit guns and drugs, "and is now considered to be the fastest growing and largest criminal industry in the world," SSP Chambers disclosed.
Modern-day slavery affects every country irrespective of sophistication, with the United Nations Office on Drugs and Crime reporting that victims were citizens of 152 different countries.
The primary target groups include:
-Young, bright women who are usually lured with the promise of better jobs or the opportunity to further their education.
– School dropouts
– Young single mothers in deprived circumstances
– Boys, usually from deprived circumstances
– Men deceived by promises of good jobs, only to have their travel documents taken away once they land overseas and forced into back-breaking labour.
The US State Department in its Trafficking in Persons Report for 2015 has maintained Jamaica's Tier 2 Watch List ranking, claiming that the Government had not demonstrated evidence of increasing overall anti-trafficking efforts compared to the previous reporting period. But the Government has rejected this, saying that in some cases the findings were not evidence-based.
Yesterday's forum, which was held on World Day against Trafficking in Persons, heard that across the world some 21 million people are victims of forced labour – 11.4 million of them are women and girls, with men and boys making up the other 9.5 million victims.
According to the data provided by the International Labour Organisation, an estimated 19 million victims are exploited by private individuals or enterprises and more than two million by the State or rebel groups. And of those exploited by individuals or organisations 4.5 million are victims of forced sexual exploitation.
Reiterating the call for sweeping changes in policy and perception on human trafficking, Richard Kelly, programme specialist with the United Nations Development Programme, lamented that it was viewed mainly as a law-enforcement issue.
"Today, we should look at trafficking as an economic and social issue, linked with global trends, including migration. Human trafficking is a serious human rights issue," he insisted.