Natasha Gordon-Miller, MSc, BSc, Dip. Ed
Director, Public Service Capability Development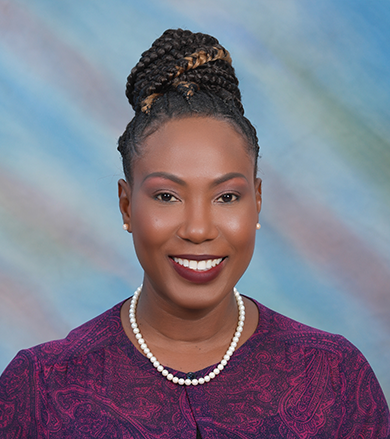 Natasha Gordon-Miller, MSc, BSc, Dip. Ed, is a Human Resource Practitioner with emphasis on Facilitation, Training and Development. She has had ten (10) years experience in the formal education system and over twelve (12) years in Human Resources Management & Development within the public service.
She is currently the Director of Public Service Capability Development (PSCD) Branch at the Management Institute for National Development (MIND). This department has responsibility for the design, development and delivery of the Agency's scheduled and customized learning products. Natasha has served MIND in many capacities. She held the post of Senior Manager of PSCD, Manager for MIND's Scheduled Programmes and Courses as well as a Senior Facilitator/Consultant where she facilitated and coordinated the Agency's Associate of Science Degree and Post-Graduate Diploma Programmes. She continues to provide training on MIND's scheduled and customized Training of Trainers course as well as other similar interventions within the Caribbean region.
Mrs. Gordon-Miller is a wife and mother who loves to cook, dance and maintain her garden. She is a member of the International Association of Facilitators (IAF) and the Human Resources Management Association of Jamaica (HRMAJ).